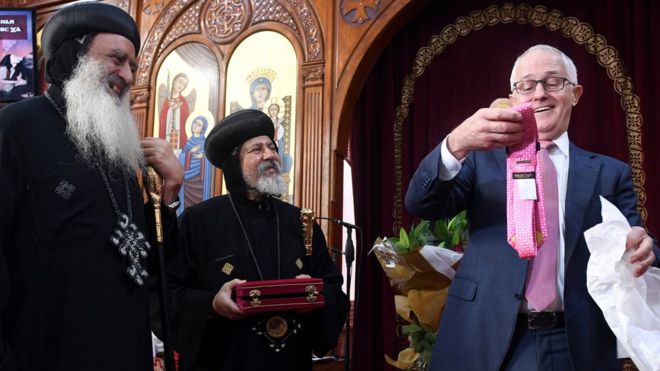 Australian Prime Minister Malcolm Turnbull has been left somewhat bemused after receiving a pink tie emblazoned with the words "Donald Trump".
The official Trump-branded item was presented to Mr Turnbull during a visit to a Coptic Orthodox church in Sydney.
His relationship with Mr Trump became a talking point after the US president was reported to have abruptly ended a phone call between the two in January.
Mr Turnbull later disputed this and the pair are said to have repaired ties.
The Australian prime minister appeared to see the funny side after he was handed the silk necktie by Pope Tawadros II of Alexandria and Coptic Orthodox Bishop Daniel on Sunday.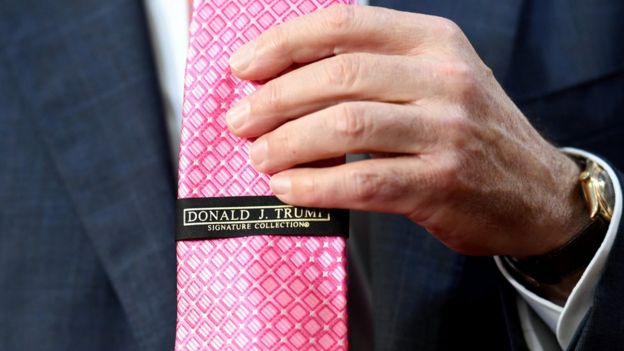 Mr Turnbull's famously difficult first phone call with Mr Trump was the result of a discussion between the two leaders over a refugee resettlement agreement, which was initially made by former US President Barack Obama.
Mr Trump was said to have become irritated and broke off what was supposed to be an hour-long call after 25 minutes, later tweeting that the refugee deal was "dumb".
Earlier this month diplomatic officials were forced to brush off footage leaked to the media in which Mr Turnbull was accused of poking fun at Mr Trump with an impersonation that he said had received "mixed reviews".
"Everyone says politicians are too serious, too scripted. You gotta lighten up right? It's Australia," Mr Turnbull said.